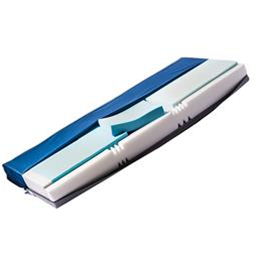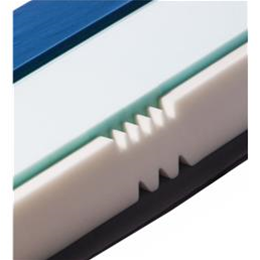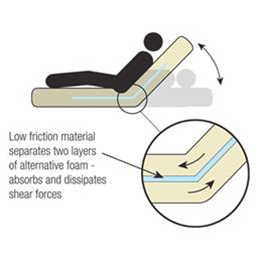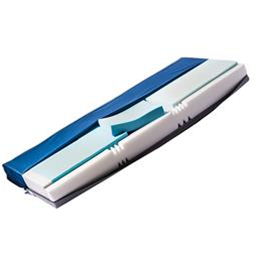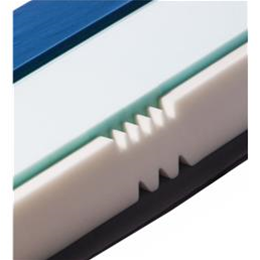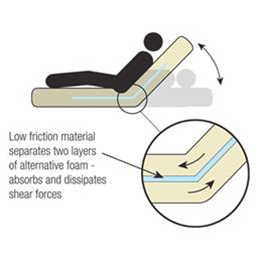 5 Minds Mobilitys award-winning mattresses are designed to support your body for more comfortable and restful sleep. These therapeutic mattresses help with the prevention of shear reduce pressure contact temperature stop sliding in bed and can relieve pain for overall wellness.
The Adapt interchangeable foam replacementsurface with Shear Reduction Technology (SRT) isan innovative solution designed to address shearingforces present during client movement in bed orwhen changing the position of the bed frame atthe same time ensuring proper pressureredistribution. The Adapt is our modifiable surfacefor the client at high risk of experiencing skinbreakdown and may require the addition of aircomponents. The side bolsters complete withaccordion cuts provide an excellent transfer edge.
The Adapt is available in a Raised Bolster version. 3are added to the head and foot section portions ofthe bolster allowing proper egress through themiddle section. This minimizes the falls risk andmeets/exceeds all restraint protocols.
Addressing Shear from the Inside Out
Product Features:
Removable sections of GelFlex to accommodate the installation of air inserts
360 degrees of movement offering reduction of shear in all directions essential when reducing the risk of skin breakdown related to shear forces
Head and foot sections of foam are fixed in place to ensure that the component parts of the mattress re-set themselves
Designed to reduce need for re-positioning
Bolstered sides for ease of transfer
Multi-zoned to address pressure redistribution requirements at head torso and feet
Higher cut middle section to improve immersion without compromising transfers
5 way stretch incontinent cover
| | |
| --- | --- |
| Weight Capacity | 350 lbs |
| Standard Size | 36" x 7" x 80" |
| Custom Widths Available | 42", 48", 54", 60" |
Customers Who Viewed This Item Also Viewed