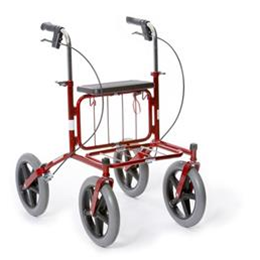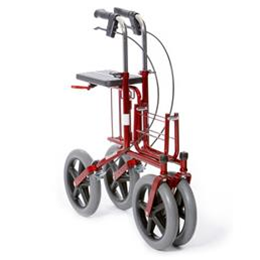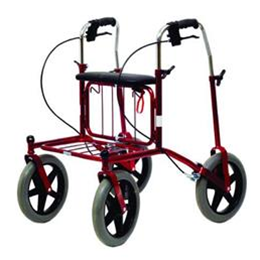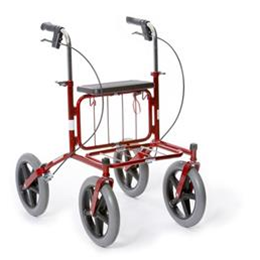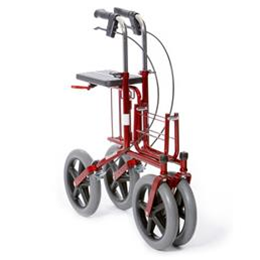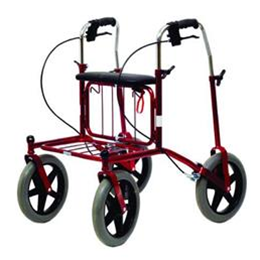 The Carl-Oskar is one of Human Care's best known and top-selling rollators worldwide. It is available in three different widths and features extra large 11" wheels for added stability. Its unique reactive frame makes it an ideal choice for rural areas as it remains stable on virtually any surface even if rough or uneven. The Carl-Oskar is also available in a reinforced model or with air tires. It is the perfect rollator for the active user!
Outstanding stability
The large stable wheels make the rollator roll very easily yet remain stable on virtually any surface. The flexibility in the chassis allows the rollator to be stable even on rough or uneven surfaces. This makes the rollator one of the most versatile rollators on the market.
Easy to fold and store
The Carl-Oskar rollator folds very easily from side to side and can stand securely and independently when folded. The rollator also takes little space when folded and is very practical to transport.
Ergonomic handles and easy braking
In order to offer you the best ergonomics the handles feature an ergonomic design that ensures even distribution of weight for a stable comfortable grip. In addition the handles are angle-adjustable so that you can find the optimal position for your hands.
Reinforced model available (up to 606 lbs)
The reinforced version of the Carl-Oskar has a weight capacity of 606.3 lbs and a maximum width of 20.5" between the handles.
Optional Accessories:
Tray
Slow down brake
Cane holder
One-hand brake
Backrest
Curb climber
Splash guard
Oxygen holder
Basket with handle
| | |
| --- | --- |
| Max. User Weight (reinforced model) | 606.3 lbs |
| Max. User Weight (std & inflatable tires models) | 330.7 lbs |
| Weights (inflatable tires model) | 24.5 lbs / 24.9 lbs / 25.1 lbs / 25.3 lbs |
| Weights (reinforced model) | 29.1 lbs / 29.3 lbs / 29.5 lbs |
| Width Between Handles (4 widths available) | 14.6" / 16.5" / 18.5" / 20.5" |
| Wheel Size | 11.8" x 1.8" |
| Weights (standard model) | 24.5 lbs / 24.9 lbs / 25.1 lbs / 25.3 lbs |
| Handle Height (all models) | 30.3" |
| Seat Height (all models) | 25.2" |
| Overall Widths Available | 22.4" / 24.4" / 26.4" / 28.3" |