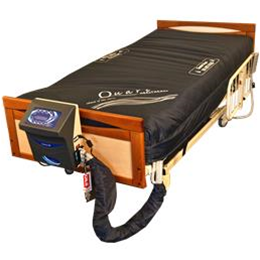 The DynaLAL III is ideal for individuals with Stage I – IV pressure wounds. Its high air flow allows for a maximum client weight of up to 1000 lbs.
This system provides two different methods of therapy alternation (3:1 ratio) and pulsation. Both therapies allow for movement to assist with increasing blood flow to the area with skin breakdown.
Additional features include alarms for bottoming out leaving bed and power outages.
Set up and maintenance are effortless the control unit has 16 weight settings to accommodate a wide range of individuals. Maintenance involves inspecting / cleaning the filter once a month.
Unique Features
"TRUE" LOW AIR LOSS TECHNOLOGY – Air escapes from 72 laser-cut openings and distributes equally under a vapour-permeable quilted cover that acts to wick moisture away from the individual.
DEEP CELL ALTERNATION THERAPY – 15 independent 8″ inch high cells and 3 each 6″ cells in the foot section gently inflate and deflate in a 3:1 cycle.
COMFORT LEVELS – 16 Comfort levels for different weight ranges
PULSATION MODE – Pressure in the cells will pulsate without complete offload.
ADJUSTABLE SECURITY TIES – Eight ties secure the system to any standard hospital bed frame.
BUILT-IN ALARM SYSTEM – Alarm sound will alert caregiver in the event of a power failure sensor disconnect bottoming out and falling out of bed.
FOWLER PRESSURE FUNCTION – This function adds extra air to support the hips and lower back when the head of the bed is raised above 30 degree angle.
| | |
| --- | --- |
| Weight Capacity | 1000 lbs |
| Dimensions | 36" x 80" x 10" |
| Air Cell Material | Polyurethane |
| Cover | Quilted fabric with polyurethane coating |
Customers Who Viewed This Item Also Viewed