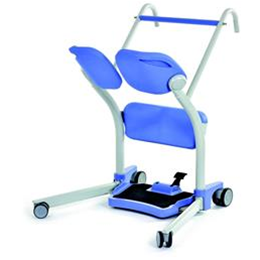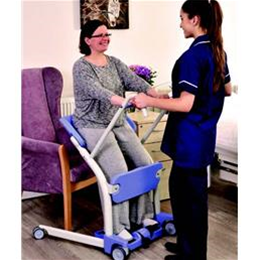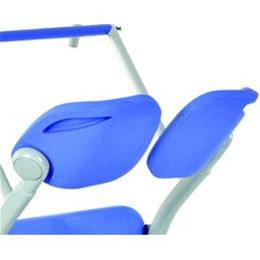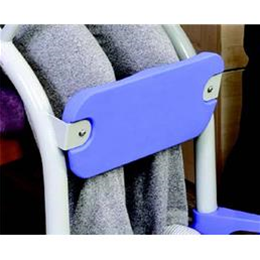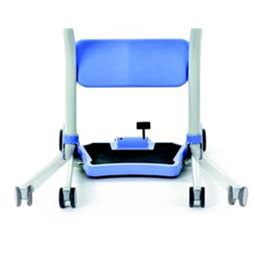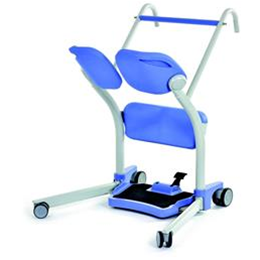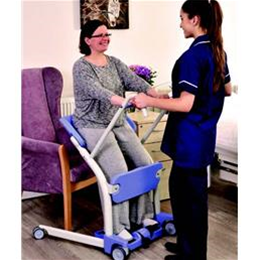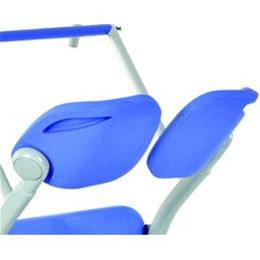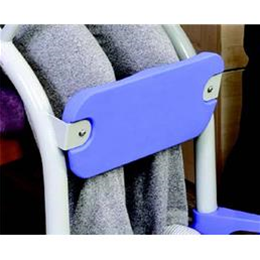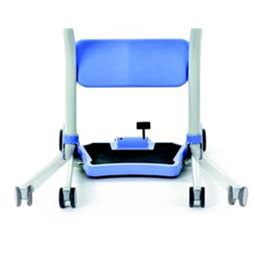 The Hoyer Up Stand Aid is an active transfer device for users who although partially impaired have some weight bearing ability trunk strength and the ability to participate in their transfers. The Up keeps the patient engaged and active in all of their transfers. Transport functions of all types are quick and require minimal caregiver assistance. Users grasp the middle bar and pull themselves up into position. A padded split seat is positioned so that it swings out to allow loading or unloading and then swings back to form a secure and comfortable seat for transfers. The Up is a tool to assist with toileting.
Features:
Rugged design for use in all settings.
440 lb safe working load.
Dual knee pads for secure transports.
Small footprint for negotiating tight spaces.
Easy manual adjustable base
Padded swing seats come together to form a stable and secure yet comfortable sitting surface. Seats fold flat against the side arms when not in use.
Contoured height adjustable knee pad offers high-level comfort and accommodates a large range of patient sizes.
Base open/close functionality increases accessibility to patients. A simple and robust mechanical foot pedal provides open/close functionality.
Alternative options are the BestMove or the Sara Stedy.
| | |
| --- | --- |
| Overall Length | 37.6" |
| Overall width | 25.2" |
| Overall height | 41.9" |
| Legs Open | External Width |
| Legs Open | Internal Width |
| Legs Closed | External Width |
| Legs Closed | Internal Width |
| Base Height | 3.75" |
| Unit Weight | 49.6 lbs |
| Weight Capacity | 440 lbs |
Customers Who Viewed This Item Also Viewed