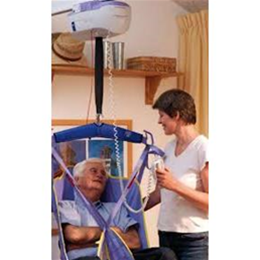 **Please contact us for pricing on this lift** Ceiling tracks & slings are sold separately. View more

Key features
Lifting capacity of 600 lbs. (272 kg)
The modular track system enables flexible solutions so a track layout can always be optimized for your needs and the specific space.
A complete range of loop or clip slings is available for use on the applicable 4-point or 2-point spreader bar. The Walking Jacket is also compatible. Making tasks easier and safer
Maxi Sky 600 is simple to operate. Regulation of lifting speed and spreader bar height is programmable from the handset. Several features a brake lowering system and cord-pull stopping
device safeguard the user in the event of an emergency. A limiter prevents lift use if the battery is low.

The unit is always ready for use. After transfers the lift cassette is returned to the clip-on charging station which can be positioned anywhere on the track. Immediate electronic soft-start and soft-stop means there are no delays or "overrun" ensuring the lift can always be stopped exactly in the required position.