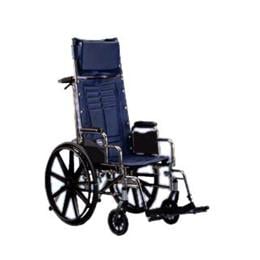 The Tracer SX5 Recliner wheelchair offersa dynamic range of recline from 90 degrees to 180 degrees. With the durability of a lightweight manual wheelchair frame the added versatility of a full reclining back meets RESNA standards for manual wheelchairs in product performance. It is durable low-maintenance and is available in multiple seat widths armstyles front riggings and offers a full range of accessories.

Recline ranges from 90 degrees to 180 degrees to comply with every user's needs.
Triple chrome-plated carbon steel frame ensures low-maintenance.
Includes dual-sealed precision bearings.
Features heavy-duty inner liners to keep seat and back from stretching.
Arm styles:
Full-length fixed height
Desk-length fixed height
Full-length adjustable height
Desk-length adjustable height
All arms are conventional; they are padded and removable.
| | |
| --- | --- |
| Available widths | 14" |
| Weight capacity on "14" | 16" |
| Weight capacity on 20" | 22" |
| Depth | 16" |
| Seat | to |
| Total recliner back height | 34" |
| Back rest height | 24" |
| Head rest height | 10" |
| Hemi swingaway footrest | 17" |
| Hemi swingaway padded elevating legrest | 17.5" |
| Hemi articulating elevating legrest | 17" |
| Product Weight | 53 lbs. |