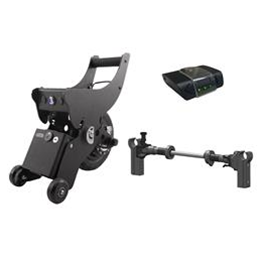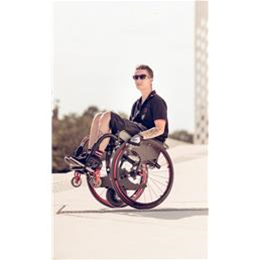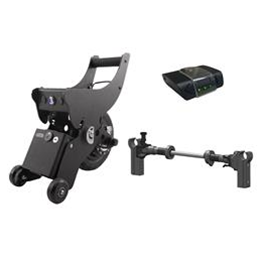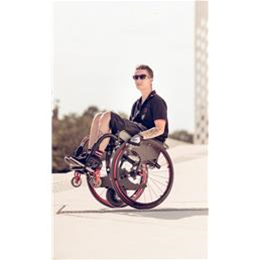 The Yomper is a power add-on device used with manually operated wheelchairs. Adding a Yomper will dramatically increase your independent mobility range allowing you to travel longer distances up hills and over uneven surfaces such as grass or gravel. So get out there and start marching!
Puts your powered wheel where it works best! Switch it on and discover new experiences. With or without the power on your chair will respond effortlessly to your touch. The powered wheel is located in-line with your wheelchair rear wheels - the best position for powering you forward and when maneuvering in tight spaces.
Intuitive and reassuring use: Reliable technology for safe driving. Drive long distances and into previously inaccessible places. Compatible with most rigid or folding wheelchairs while maintaining your wheelchair's original footprint.
Adapt your driving: As your needs change the Yomper adapts - 2 modes (inside and outside). 5 adjustable speeds from 0 to 6 km/h at your leisure.
EasyGo control convenience: Try a dynamic ride - attached to the chair or thigh the EasyGo remote control is your best friend for effortless everyday use.
Installs quickly and easily: 2 small wheels at the front make it stable and allow it to be set up effortlessly.The handle is raised for optimal installation.
| | |
| --- | --- |
| User Weight Capacity | 330 lbs |
| Maximum Slope | Up to 16% |
| Engine Power | 250W |
| Engine Max. Power | 450W |
| 5 Levels of Acceleration | Adjustable via the control box |
| 5 Handrim Resistance Levels | Adjustable via the control box |
| 5 Speeds Inside/5 Outside | Customizable 0 to 6 km/h with the Bluetooth control box |
| Weight | 12.5 lbs |
| Attendant Control | Optional |
Customers Who Viewed This Item Also Viewed