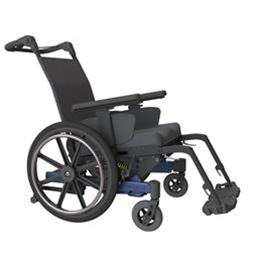 The lightweight Bentley LT offers up to 20° of tilt from the front of the seat. This allows you to keep your feet on the ground even while the chair is fully tilted. The chair's rigid frame offers superior stability and rolling performance. The lightweight design combines the benefits of tilt with a high degree of mobility independence.
The new lightweight models have aluminum frames which are 30% lighter than the steel frames. Aluminum offers remarkable tensile strength and a strength to weight ratio much higher than steel. This allows us to make a lightweight and durable chair. The rigid frame of the Bentley LT and Stellar GLT offers superior stability and rolling performance. Both chairs have passed ISO-7176-8 double drum and drop tests as well as ISO-7176-19 and WC-19 crash tests.
While the steel Bentley and Stellar will remain the preferred choice for heavier or high-tone/agitation users the lighter chairs will offer improved propulsion and transportation options for those who do not require heavy duty chairs.
Bentley Exclusive Features
Foot and hand propel in tilt position with no knee-rise
Short wheelbase for maneuverability
Adjustable rear axle position to move center of gravity
Available Options
Transit tie downs
30° manual dynamic recline
Easy-Out front rigging
| | |
| --- | --- |
| Tilt | 20 degrees |
| Back Seat Angle | Adjustable 90 |
| Transport Weight | 33 lbs (w/o armrests, footrests & rear wheels) |
| Weight Capacity | 250 lbs |
| Seat widths | 14 |
| Seat depths | 16 |
| Front Seat Height | Adjustable 13 |
Customers Who Viewed This Item Also Viewed