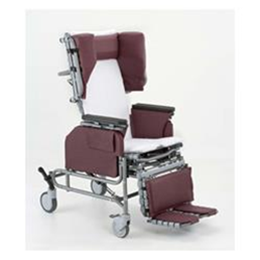 The Broda Elite chairs now offer a choice of either seat or base mounted arms. (Seat mounted arms tilt with the seat. Base mounted arms maintain a fixed angle when seat is tilted). This new option allows the Elite models to offer even more versatility in positioning. The Broda Elite Chair model 785 is a superior repositioning chair that provides exceptional resident comfort while reducing the time and effort required of caregivers. It is ideal for use in long-term care and acute-care facilities for:
Residents requiring medium to heavy levels of nursing care.
Residents with Huntington's Chorea or severe agitation and involuntary movement.
This tilt-in-space chair has up to 40° of infinitely adjustable seat tilt and 90° of infinitely-adjustable back recline which makes containment issues and upper body positioning problems become a thing of the past. You can also accommodate hyper-extension change incontinence products without transferring from the chair or achieve a true Trendelenburg position. The removable swing-away armrests are individually height adjustable with push-pin height adjustment.
Standard Features:
shoulder bolsters
upper and lower side pads
seat pad and back pad with removable terry cover
neckrest cushion
footpad and calfpad
removable wings to provide upper body lateral support
Broda Comfort Tension Seating®
16 gauge tubular steel frame
40° infinitely adjustable tilt in space
90° infinitely adjustable back recline
Semi recline option of 45°
Choice of seat or base mounted arms - NEW!
2 5"front total-lock casters
2 6" rear single directional lock casters
adjustable-length articulating and extending legrest with footrest (elevates independently and with back recline)
split-plate flip-down removable footrest with adjustable footplate angle
Swing away and removable side panels/arms
Push pin height adjustable armrests
extra terry cloth covers are included
350 lb. weight capacity