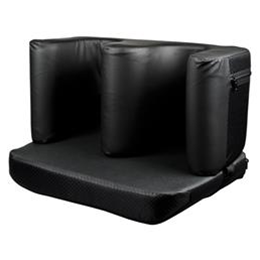 Available in single (one foot) or double.
Unique heel cut-out eliminates contact with the heel preventing pressure points and reduces risk of skin breakdown.
Optional leg separator keeps feet and legs positioned properly.
Foam design protects feet from door frames and other obstructions.
Non-skid fabric on foot support helps maintain foot positioning.
Durable securing buckle and bolt-on option comes standard with all models.
Comes standard with Comfort-Tek Cover.
Available with or without leg separator.
Regular (8) or tall (12.5) heights.
Double - 16 18 20 22 & 24 widths.
Single standard 7 x 10 x 8 tall 7 x 10 x 12 bariatric 10 x 10 x 8.
Single available in elevating style as well.