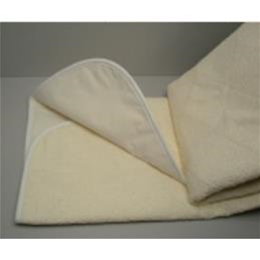 DANAMAT is engineered with proprietary triple-layer shielding to provide complete moisture protection and comfort for bedding cribs furniture vehicles kennels anywhere a total barrier with luxury surface is desired.
DANAMAT's triple-layer manufacturing with quilted terry-cloth top layer and specially engineered ultra-absorbent inner layer provides a level of comfort and confidence uncommon in barrier bedding - ensuring sound effective rest.
DANAMAT sizing is specifically designed to allow couples to share a bed without sharing a mat.
Featuring:
Made in Canaca
Super soft quilted terry-cloth outer top layer
Unique ultra-absorbent inner layer
Waterproof non-slip soft vinyl barrier layer
Bound edges - machine wash tumble dry won't shrink
Available in Cream and Blue
Size: 30" x 57" / 76cm x 145cm
Just a few DANAMAT uses:
Bedding -"Sleeping while dealing with incontinence is substantially less stressful thanks to my DANAMAT."
Sleep Training - "We have one DANAMAT for our bed and one for hers just in case."
Cribs & Playpens - "Protecting our crib at home or him when we're out we just keep one in the trunk."
Pets & Kennels - "Housebreaking and travel are a breeze with our DANAMATS especially to the vet!"
Vehicles - "It's a the perfect soft landing for our wet ski/board gear in winter and swim/dive/kayak/beach gear in summer."
Delicate Laundry - "Wet towels for 'DRY FLAT' clothing? Forget it... a DANAMAT or two on the bed or chair and you'll love how much faster your delicates dry - zero colour transfer!"
Camping - "...it makes a great barrier under our air mattress and the other is our secret weapon bottom blanket for wet grass - there's always 2 in our camping kit!"
| | |
| --- | --- |
| Size | 30" x 57" |
| Available Colours | Cream, Navy Blue |
Customers Who Viewed This Item Also Viewed