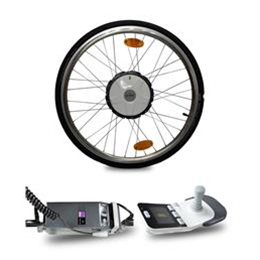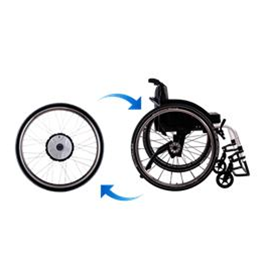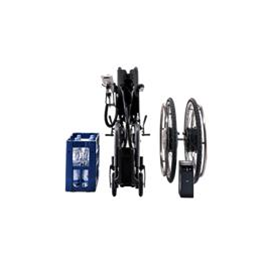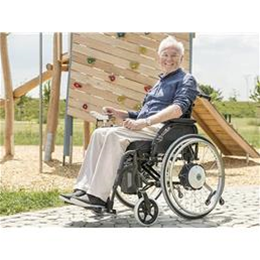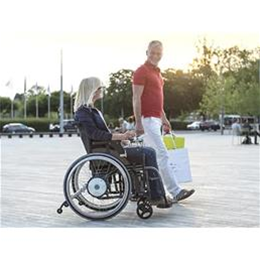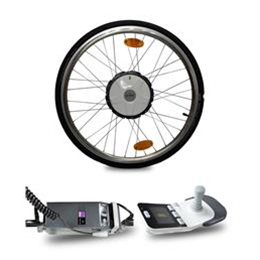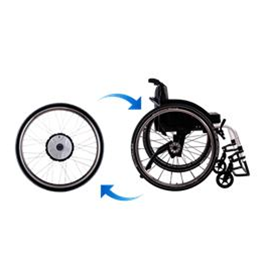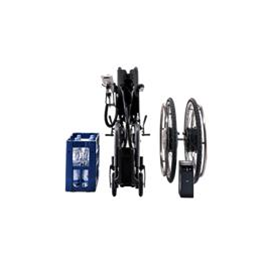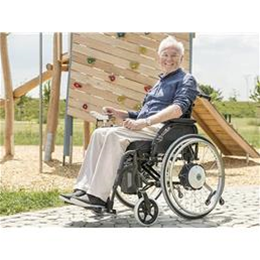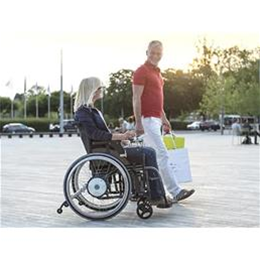 Turn your manual wheelchair into a compact electric wheelchair with the e-fix add-on drive. The drive can be individually programmed and can therefore be adapted perfectly to your personal needs. The electric add-on drive is the simple way to increase your freedom of movement. The e-fix also allows you to cover greater distances and handle slopes effortlessly.
Enjoy a new degree of mobilityWith e-fix the electrical add-on drive for your wheelchair youcan cover longer distances quickly and easily.The conversion is so easy: your specialist dealer will simplyswap the drive wheels and install the battery pack and controlunit – all done. The motors are neatly concealed within thewheel hubs. Almost all current types of wheelchairs can beretrofitted with e-fix in this way. This means that you can continue to use a wheelchair that has been optimally adjustedto suit you.
Stay flexible – two wheelchairs in one!The e-fix is also very easy to push by hand if the situationrequires it: just uncouple the drive wheels with a simple movement and your wheelchair can be propelled manually in theusual way – either by using the push rims or by another personpushing.
I want to remain independent – e-fix makes it possible. Getting out and about and enjoying daily life is second nature to most people. But what if illness or age means that you are no longer able to leave your own apartment without assistance? A useful helper is the e-fix electric add-on drive which turns your wheelchair into a small and lightweight electric wheelchair. You can then independently cover greater distances and handle slopes without stress or external assistance.
I still have my independence thanks to e-fix. Being in control of our own lives for as long as possible is something all of us want. Equipment like the e-fix add-on drive can help you achieve this. Great in all circumstances the add-on drive is a huge help in everyday life. e-fix makes your wheelchair incredibly easy to control – you'll learn to master it right away!The powerful drive wheels of the e-fix are great for outdoor use too. Walks with your partner or friends a stroll around the town – with e-fix you can do all this and more. The speed is set to anything between 0.5 and 6 km/h using the easy-grip controller. As a rule the slower you drive the swifter the wheelchair reacts. You steer the e-fix responds!
An attendant control is an optional upgrade for the e-fix.
Customers Who Viewed This Item Also Viewed