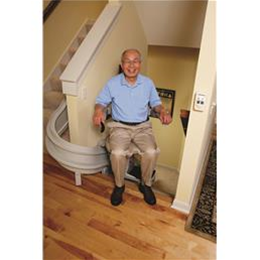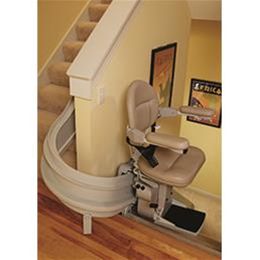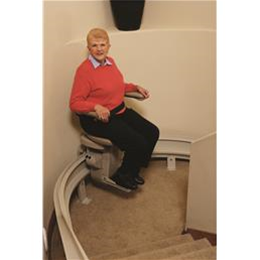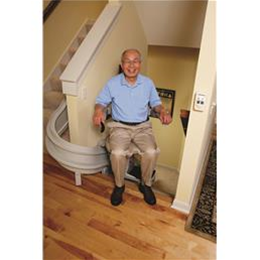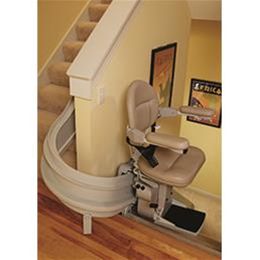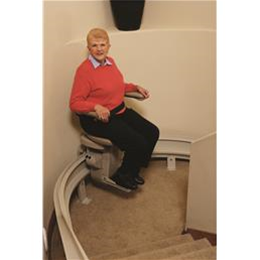 Experience the smooth quiet ride of Bruno's Elite Curve. Quality and comfort are second to none with a Bruno stairlift. Consider adding power options to further customize your Elite curved lift to best meet your needs.
Product Highlights
• Luxury Styling – Plush generous-size seat with multiple height adjustments adjustable arm widths and footrest height for maximum comfort.
• Custom Rail – Handmade rail for beautiful curves precision fit and smooth ride. Covered gear rack gives clean appearance and reduces exposure to dirt grease.
• Space Saving – Unique vertical rail leaves maximum open space on steps. Fold arms seat and footrest to save even more space.
• Easy Operation – High-performance ride. Armrest control activates stairlift. Two wireless remote controls also included.
• Safe – Seat swivels up to 90 degrees at top landing extends and locks in place for safe exit away from steps. Retractable seat belt and obstruction sensors ensure safety.
• Dependable – Battery-powered ensures performance even in a power outage.
Available Options
• Multiple colors and fabrics.
• Wider seat.
• Wider footrest.
• Top or bottom park position extends rail away from the staircase.
• Power folding footrest flips up/down when seat is raised/lowered.
• Power swivel seat. Control on chair armrest or wireless call/send.
• Mid-park and charge station for staircases with middle landings.
| | |
| --- | --- |
| Standard Seat Size | 17.5 in wide x 15 in deep (445 mm wide x 381 mm deep) |
| Larger Seat Option | 21.5 in wide x 16 in deep (546 mm wide x 406 mm deep) |
| Standard Footrest Size | 10 in long x 9 in wide (254 mm long x 229 mm wide) |
| Larger Footrest Option | 12 in long x 11 in wide (305 mm long x 279 mm wide) |
| Lift Capacity | 400 lbs |
Customers Who Viewed This Item Also Viewed