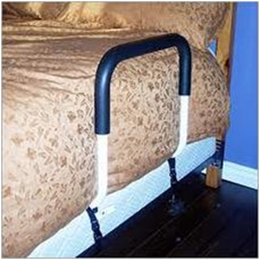 For use between a mattress and a box spring. Not for use with hospital beds.
The NYACC Bed Rail Assist fits securely between the box spring and mattress with two 34 long solid arms. Strong webbing attached to the end of the arms goes through to the other side of the mattress and under the bed to clip securely to the front of the bed rail. With the webbing tightened around the box spring there is no risk of the bed rail slipping.
The upside down U guard area is covered with soft foam and forms an 18x18 box measured from where the rail attaches between the box spring and mattress to the top of the U. This 18 height limits use of the rail for beds with extra deep mattresses. Easy to grip to help pull your upper body to sitting position in bed.
| | |
| --- | --- |
| Length | 34" |
| Width | 18" |
| Weight Capacity | 300 lbs. |