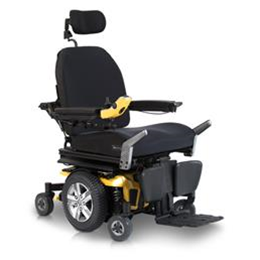 With features like standard 6 mph motors and advanced responsiveness the Q6 Edge® 2.0 is engineered to meet the performance needs of the most active user. The Q6 Edge 2.0 accepts a complete range of seating and electronics options to deliver exceptional rehab capability at an excellent value and is available with Pride's iLevel® technology.
iLevel® option available with up to 10 of seat elevation (in 24 seconds) at walking speed (up to 3.5 mph)
iLevel® is retrofittable on the Q6 Edge® 2.0
New standard 6 mph motors offer advanced performance precise control and responsiveness via innovative singlestage gearbox
Bold new aesthetics
Compact mid-wheel drive base for enhanced maneuverability and access
ATX Suspension for optimum ride and enhanced obstacle climbing
Wide range of standard and rehab seating systems to meet any users needs
Low impact OMNI-Casters (nylon spherical-shaped casters) on front and rear prevent wheel hang-ups
User weight capacity: 300 lbs
Pride FDA Class II Medical Devices are designed to aid individuals with mobility impairments.
| | |
| --- | --- |
| Weight Capacity | 300 lbs |
| Maximum Speed | Up to 6 mph |
| Base width | 24.4" |