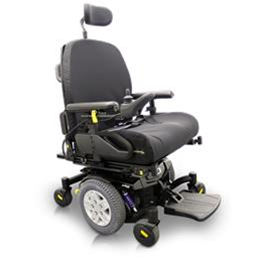 With features like standard 4-pole motors Mid-Wheel 6® Drive Design and ATX Suspension the Q6 Edge® HD is engineered to meet the performance needs of the most active user. The Q6 Edge HD accepts a complete range of seating and electronics options to deliver exceptional rehab capability at an excellent value.
Mid-Wheel 6® allows six wheels on the ground for maximum stability
Compatible with TRU-Balance® 3 HD Power Positioning Systems
Available with Q-Logic 2 Drive Control System which offers Bluetooth® access to computer tablet and phone functions
450 lbs. weight capacity
Low impact OMNI-Casters (nylon spherical-shaped casters) on front and rear prevent wheel hang-ups
ATX Suspension (Active-Trac® with extra stability) incorporates front OMNI-Casters and semi-independent rear caster beam for enhanced performance over more varied terrain
Pride FDA Class II Medical Devices are designed to aid individuals with mobility impairments.