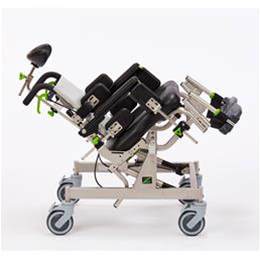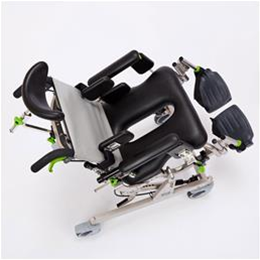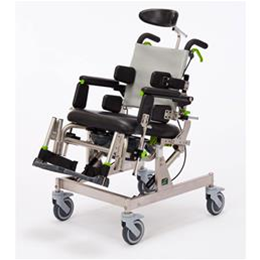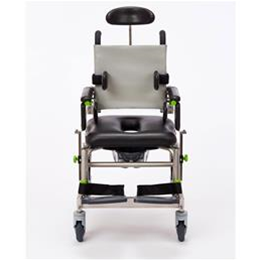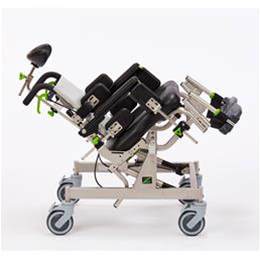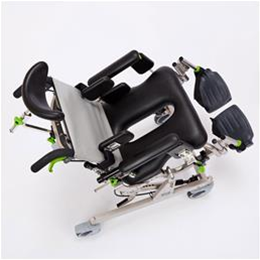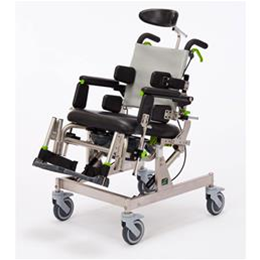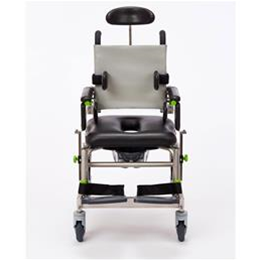 RAZ-CAT Compact Shower Commode - available with a wide or standard base frame (both fit over standard toilet bowls 15.75"W or less) - with 40° of tilt range adjustable seat depth and back angle four dual-locking 5"casters molded headrest (10"x4") headrest fixture and commode pan. Footrests are included. 
RAZ has created the most configurable adjustable and comfortable rehab shower commode chairs on the market today. The chairs were developed with meticulous attention to detail - from the electro-polished stainless steel frames with easy access for users and caregivers to the precisely contoured seats molded with soft integral skin foam. Only RAZ offers a commode seat that adjusts to accomodate pelvic rotation with a centering of the aperture around the user′s ischial tuberosities.
RAZ rehab shower commode chairs provide positioning pressure reduction and are ideal for the rehab client and the institutional user. Designed and Manufactured to the Highest Standard of the Discerning Healthcare Professional.
| | |
| --- | --- |
| Backrest Options (width/height) | 14"w x 15"h, 16"w x 15"h, 18"w x 15"h |
| Tilt Function | Up to 40° |
| Toilet Clearance Width | 15.75" |
| Seat Depth Options | 1" increments from 11" to 16" |
| Flip Up Armrest with 10" Long Pad (pair) | Standard |
| Seat Height | 21" |
| Overall width | 21.8" (14" & 16" back width) / 23" (18" back width) |
| Overall Length When Upright | 31.9" (no footrests) / 34.9" (with footrests) |
| Overall Length When Tilted | 37.4" (no footrests) / 44.4" (with footrests) |
| Weight Capacity | 250 lbs |
| Product Weight | 64 lbs |
| Frame Material & Hardware | Stainless Steel |
Customers Who Viewed This Item Also Viewed