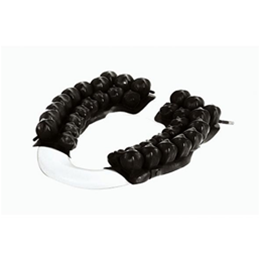 **For cleaning purposes, a cover is not included with this product. No custom sizes are available. View more
The ROHO Toilet Seat Cushion is designed for standard-size toilets and portable bedside commodes. Maximizes stability and minimizes potential tissue breakdowns.
Positions the body securely.
Easy attachment. Straps securely fasten the cushion to the toilet seat or bedside commode.
Multi-height cells securely position the user. The outer cells are 2.25" (5.5 cm) tall; the inner cells are 1" (2.5 cm).
Made of impermeable anti-static flame-resistant black neoprene (not made with natural rubber latex) the toilet seat cushion is easy to clean with soap and water.
| | |
| --- | --- |
| Weight | 1.25 lbs |
| Sku | SEATTOILET |
| Product Number | 37 |
| Size | 15.75" D x 7.75" W x 2.25" H |
| Warranty | 2 Year Limited Warranty |