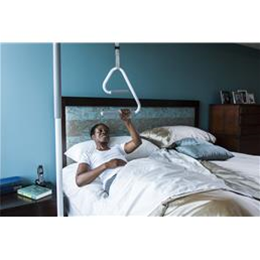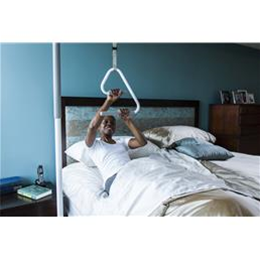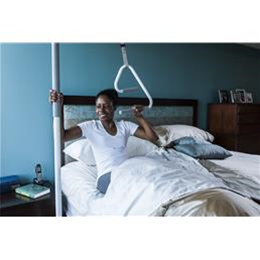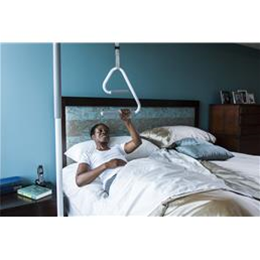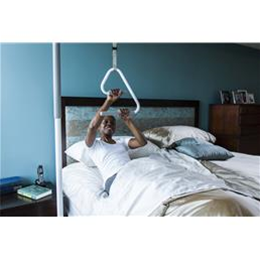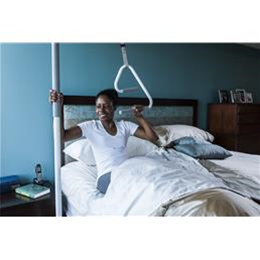 The SuperTrapeze™ is an add-on accessory for the SuperPole™, which is rented or purchased separately. There is a $30 installation fee to install a SuperTrapeze™ onto a SuperPole­™. View more
The SuperTrapeze is an add-on to the SuperPole that increases its functionality to also include in-bed support. While the SuperPole and SuperBar help you get out and move from the bed the SuperTrapeze assists in one of the hardest motions – transferring from a lying position to a seated position in bed. It uses two offset ladder rungs to allow for improved use of arm strength and increased comfort. Additionally it can easily be stored out of the way when not being used.
Strap Range: 29"
Support Arm Length: 17"
Material: Alloy steel
Finish: Anti-microbial white powder coat
Weight Capacity: 300lbs – no more than 150lbs should be exerted on the trapeze system.
Install Yourself
It is important to move your body while in bed especially for those prone to pressure sores. The SuperTrapeze helps a person shift independently allowing regular redistribution of pressure.
| | |
| --- | --- |
| Weight Capacity | 300 lbs |
| Strap Range | 29" |
| Support Arm Length | 17" |
| Material | Alloy Steel |
| Finish | Anti |