From MIP | Item #: PTD-56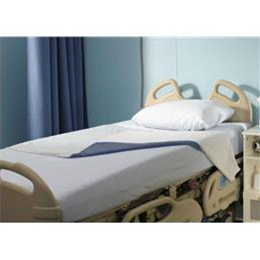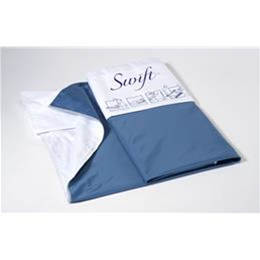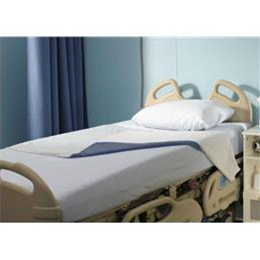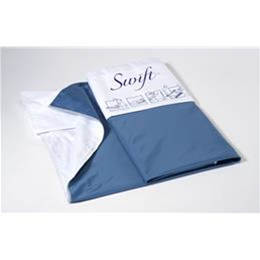 More than any other occupation or industry nursing personnel file for the highest number of operational injuries related to back pain (National Institute for Occupational Safety And Health). In order to prevent such injuries MIP has developed UltraSlide a fitted bottom sheet modified with a low-friction panel down the center to be used together with Swift. UltraSlide should be used when patients/residents have little or no mobility and require extensive or total assistance for repositioning in bed. Used individually or together the two parts of the Swift UltraSlide System reduce the force required to turn or reposition bed-bound patients/residents.
THE SWIFT ULTRASLIDE SYSTEM IS A BREEZE!
Central low-friction panel significantly reduces resistance when used in conjunction with Swift® Sliders
Carbon fibers reduce static build-up
Special stretch UltraKnit construction provides a smooth surface and accommodates a wide range of healthcare mattress sizes
Durable 100% synthetic fabric ensures quick drying and longevity in demanding environments
Proper use should significantly reduce the risk of neck shoulder and back injuries caused by repositioning
Can be washed along with regular bed linens
Also available in bariatric and stretcher sizes
USAGE GUIDELINES FOR SWIFT ULTRASLIDE SYSTEM:
Place UltraSlide over mattress as you would a normal fitted sheet
Place Swift across UltraSlide with blue sides facing each other
Position Swift so that it supports shoulder to hip area
Reposition patient/resident using appropriate protocol (refer to usage guidelines for Swift)
Once you've positioned patient/resident's hips to appropriate area tuck in Swift to keep it from sliding
May not be used for lifting
Note:
If head of bed needs to be elevated raise knee gatch to prevent patient/resident from sliding down mattress
Position patient/resident's hips in bend of bed. If hips go above that zone patient/resident will slide down by force of gravity
Please note - the Swift® UltraSlide System consists of the Swift® Slider Breathable Repositioner (shown here) and the UltraSlide Repositioning Bottom Sheet. However both parts of the system can be used individually as well.
Customers Who Viewed This Item Also Viewed