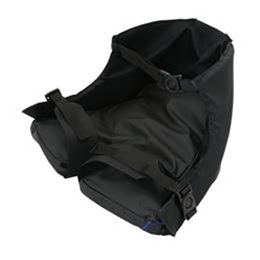 Active as you are not all of your activities require or allow the use of a wheelchair. The Vicair AllRounder keeps you comfortable and protects your skin. As it is easily buckled onto your body it follows you around wherever you go. Use it during your (wheelchair) sports-activities to sit in a chair or to play on the ground.
The AllRounder is a seat cushion that can be strapped around the waist and legs and can be used anywhere. Intended for the sporty wheelchair user who regularly transfers and who also wants to be active outside the wheelchair.
Experience unlimited freedom - Safely! Don't let the lack of skin protection put you off doing the things you want to do. The AllRounder enables you to move around safely and comfortably when you're not in your wheelchair; you can get down on the floor to play with your children or even fix the car. You'll stay comfortable while driving enjoying sports or pursuing other activities.
Vicair Technology enables comfortable stable unique seating solutions for individuals with simple to complex pressure and positioning needs. Vicair products offer superior performance with little to no maintenance for the user or caregiver. Vicair mattresses and cushions are filled with triangular air-filled SmartCells. The low friction surface of the cells allows them to move easily against each other and to conform precisely to the body's contours.
Features
Offers skin protection when you are out of your wheelchair
Easily buckled on to your body
Unique in its kind
One size fits all
Can be used (e.g.) in cases of paraplegia and for mentally disabled persons who sit and play on the floor or shove around
| | |
| --- | --- |
| Size | One size fits all |
| Average Product Weight | 1.7 lbs (800 g) |
| Weight Capacity | 220 lbs (100 kg) |