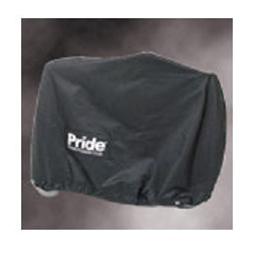 Protect your scooter with the weather cover. This cover fits most Pride Mobility scooter from the elements to protect your important investment! It is available in a widearray of sizes for both electric scooters and power chairs. The Pride weather cover is made from durable vinyl to protect the electronics and keep the seat clean and dry.
Features & Benefits:
- Dual zipper pouches
- Designed to protect your mobility device from the elements while storing it or transporting it using a vehicle lift
- Protects the electronics on your scooter or power chair and keeps your seat clean and dry
- Made from tough vinyl that is water-resistant
- Equipped with durable metal grommets and a drawstring closure for added security
- Decorated with a Pride Mobility Products Corp. patch
- The drawstring closure should only be used by itself during stationary storage such as in a garage
- When used on an outside lift system the weather cover must be secured not only with the drawstring but also with a heavy gauge nylon cord threaded through the grommets and secured to the scooter or power chair
Pride FDA Class II Medical Devices are designed to aid individuals with mobility impairments.