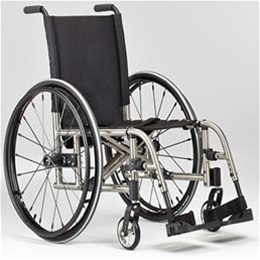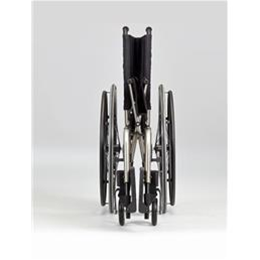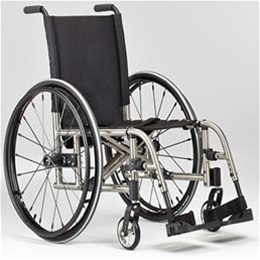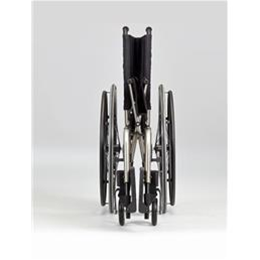 Weighing in at 21 lbs the Catalyst 5Ti is not only incredibly lightweight but the patented frame design provides a ride so incredibly responsive it is sure to impress. No other folding titanium wheelchair offers the light weight & ultimate performance that you experience with the Catalyst 5Ti.
300 lb Standard Weight Capacity
The Catalyst 5Ti is the lightest and strongest titanium folding chair on the market with its NEW 300 lb. standard weight capacity! A heavy duty option is also available.
Titanium Frame Construction
The Ti3AL/2.5V titanium alloy used to construct the frame has a strength-to-weight ratio twice that of 6061 series aluminum and highly resistant to the scratches and corrosion that happen over time. The titanium construction also contributes to the ultra-smooth and responsive ride experience you will feel when riding the Catalyst 5Ti. We recognize that getting every last ounce out of your chair and looking good doing it is important.
Titanium Crossbrace
Why limit yourself to titanium side frames? Add to the titanium experience with the value found in titanium cross braces. Lighten up the frame by another ½ lb.
Standard And Curved Axle Plates
With the Catalyst 5Ti you have the ability to adjust your Center of Gravity (CG) a critical design criteria for a K0005 class chair. Both axle plate options standard and curved are machined from Billet 6061-T6 aluminum and offer finite adjustment of the CG and rear seat height. 3/16" of CG adjustment over a 3 ½" range is a snap with the innovative 3D locking index washer design. It only requires one wrench. The standard axle plate offers 1" adjustments in rear-seat height and 1° adjustments of wheel camber while the curved axle plate offers a more discrete ½" of fine tuning adjustments in the rear seat.
Maxx Performance Spoke
Maxx Performance is our new spoke wheel that offers performance and style without a high price tag. It features eighteen radial spokes and a high flange hub that results in increased rigidity for a more responsive better performing wheel. The heightened level of responsiveness combined with a lightweight design gives the rider the most from every push. Constructed with a 6061 series aluminum rim and straight steel spokes with a durable black satin finish for a look and feel that is anything but standard.
| | |
| --- | --- |
| Weight Capacity | 300 lbs |
| Weight Capacity HD | 350 lbs |
| Transport Weight (w/o rear wheels & footrests) | 10.9 lbs |
| Standard Weight | 18.9 lbs |
| Seat widths | 14 |
| Seat depths | 14 |
| Camber | 0, 2, 4 degrees |
| Front Seat Height | 13.5 |
| Rear Seat Height | 11 |
Customers Who Viewed This Item Also Viewed