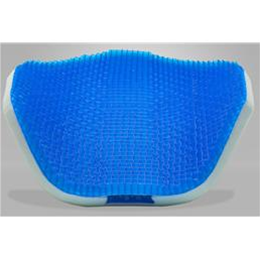 Where extra skin protection is necessary the Silverback Max's extra layer of gel provides superior vibration dampening qualities making it an exceptionally comfortable and protective back for power wheelchairs. It still incorporates rgw vertical insert of Geo-Matrix™ gel that targets protection to the high-risk area around the spinal column. The spinal inserts ensure optimal comfort and skin protection from the shear that results when wheelchairs tilt and recline reducing the risk of pressure sores from developing along the spine. The Silverback Max delivers extra protection when the spine is subjected to added pressure from prolonged wheelchair tilt conditions. The Silverback Max is best for most clients and is especially beneficial to address over-curvature of the spine (kyphosis). However if weight is a concern the lighter Silverback Prime is also available.
The Geo-Matrix™ gel is a mineral-oil-based dry-polymer solid gel that stays in place regardless of pressure and is unaffected by the pull of gravity. So whether in an upright position or in full tilt the unique properties of the gel allow it to move with the body reducing shear and reactionary force. The Silverback wheelchair backs are rated for up to 250 lbs. at all degrees for years of enjoyment and use (or abuse!).
The Silverback Max is available in 3 contour depths: Active (2.5") Deep (4") & Extra Deep (6").
| | |
| --- | --- |
| Construction | 1.25" thick foam with a spinal insert of blue gel that is 3.75" wide and runs the full height of the back with a full layer of pillow top that covers the entire face of the backrest. |
| Thickness | Foam & gel 2" |
| Standard Widths | 14 |
| Standard Heights | 16, 18, 20" |
| Contour Depths | 2.5", 4", 6" |
| Custom Sizes | Available |
| Cover | Ultra stretchy and breathable fabric for maximum immersion and temperature control. Wipeable fabrics are available for an additional cost. |
Customers Who Viewed This Item Also Viewed