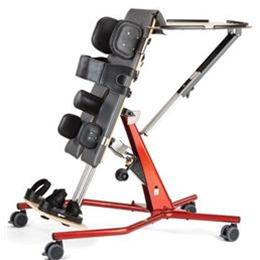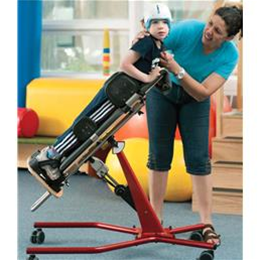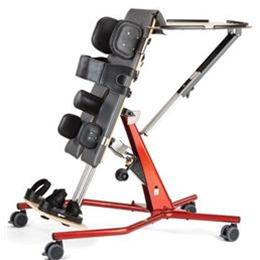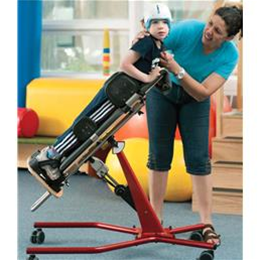 Note: the price shown is the price for the smallest size in the most basic configuration. Larger sizes and optional accessories will be an additional charge. View more
Providing physical development and greater social interaction
The physiologicalbenefits of standingare enormous - not to mention the psychological benefits of being able to tackle activities in anupright position participating at eye level alongside peers.
Prone Standers allow forphysical developmentand greater social interaction - enabling clients toexperience the world more fullywhile building strength for the future. This Prone Stander provides anterior support and stability while encouraging weight-bearing and use of both hands and arms.Fully adjustable Prone Standers can "grow" with clients as their skills develop.
The Benefits:
Therapeutic benefitsof standing:
Provide hip alignment through comfortable postural supports
Provide stretch to reduce risk of lower extremity contractures
Build head control
Strengthen lower-body muscles
Position the user at eye-level to peers for social interaction
Benefits of using the Prone Stander:
Adjustments are easy to make
Optionalaccessoriesenable therapists to customize the supports to a client's needs
Calibrated angle adjustment positions the client from 0 to 85
When vertical the Prone Stander's footboard is almost at floor level making transfers easy
Why use a Prone Stander?
For upright social interaction: The Prone Stander offers users the opportunityto be at eye-level with their peers and participate in class activities while still being supported adequately at the trunk.
For improving head and trunk control: The prone tilt of the main board engages the pull of gravity on the head and upper trunk cueing the use of the neck and trunk extensor muscles in maintaining an upright head position. The main board can also be lowered to increase postural challenge to the upper trunk.
To minimize extensor tone: The prone tilt of the main board engages the pull of gravity to counteract extensor tone and thrust.
For pressure relief: Great temporary alternative to wheelchair positioning relieving pressure on the ischial tuberosities and other areas susceptible to skin breakdown.
For gradual increase in weight-bearing: The zero to 85 angle adjustment makes it easy to monitor and adjust the rate and amount of weight-bearing the user can manage comfortably.
For better hip extension and alignment: Hip range of motion and integrity can be maintained in the prone position with the firm anterior support and the abductor options.
| | |
| --- | --- |
| Weight Capacity (Lg) | 200 lbs |
| Board Length (Lg) | 39" |
| Board Width | Top/Bottom (Lg) |
| Top of Board to Footboard (Lg) | 44" |
| Height When Horizontal (Lg) | 31.5" |
| Height When Vertical | 61" |
| Distance Between Laterals (Lg) | 12" |
| Base Width (Lg) | 30" |
| Base Length (Lg) | 44" |
| Tray Inside Width | widest point (Lg) |
| Tray Inside Length (Lg) | 17.5" |
Customers Who Viewed This Item Also Viewed