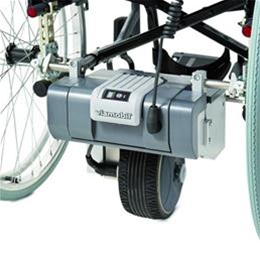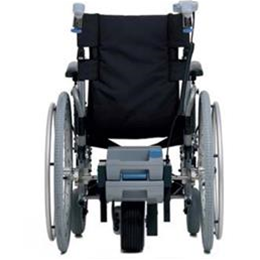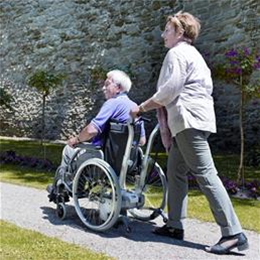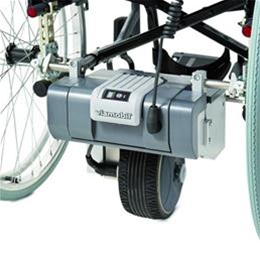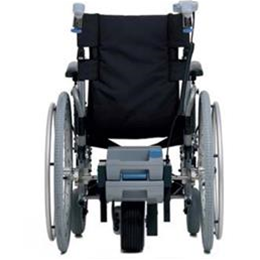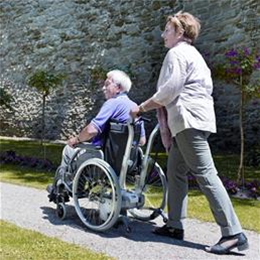 The idea behind viamobil is so simple – and yet so clever:an add-on electric drive is retrofitted to your existing wheelchair.The strong electric motor relieves the carer thus giving your mobility new drive.
Viamobil makes pushing as well as braking child's play. The physical effort previously needed on uphill or downhill gradientsand on ramps is now definitely a thing of the past. Enjoy more independence in your everyday life whenever and especially wherever you wish.
Viamobil can be combined with almost any wheelchair model. Simply select the wheelchair to suit your therapeutic needs andfit it with viamobil. It is quick and simple to mount without the need for tools or technical skills. The wheelchair's functions(e.g. foldability) all remain fully operational and you benefit from far better comfort and mobility.
Once attached to the wheelchair viamobil gives you all-roundflexible mobility:
Uphill and downhill slopes of up to 18% can be managed without any strain on the carer.
The compact battery pack allows for an operating range of up to 20 km!
The motor powers the wheelchair and brakes it as well. This increases safety even on steep downward slopes.
Viamobil fits on nearly all wheelchairs with a seat width of 36 cm or more – from standard to recliner wheelchairs.
Thanks to the centrally located drive wheel the wheelchairis perfectly easy to steer. Even when going downhill viamobilprovides extra safety: the motor safely brakes the wheelchair ondownward slopes thus considerably relieving the strain on thecarer. The integrated spring system with the wide drive wheelresults in excellent traction. viamobil gets you safely and reliablyto your destination even on difficult terrain such as grass orgravel.
Intuitive steering technology ensures viamobil is easy andconvenient to handle and enables carers to cover longerdistances without any effort. The ergonomic non-slip handleprovides additional safety and its symmetric design makes itsuitable for left-handed as well as right-handed people. So yourtrip out together is a pleasure and not a challenge.
On/Off switch: added convenience. When the unit is turned on the drive wheel is lowered automatically.
Battery indicator: greater assurance. The display shows you how long you can travel.
Preselected speed: adapt the speed to yourself and not yourself to the speed.
Direction indicator: Use the switch to select the direction you require and check it on the display. The ultimate in convenience.
Driving lever: when the driving lever is pressed you are ready to go. When it is released viamobil brakes gently and safely.
Customers Who Viewed This Item Also Viewed