Improve Quality of Life with Power Seat Elevation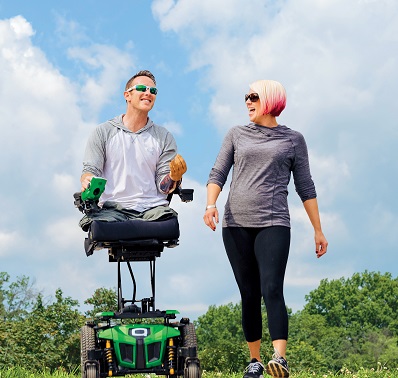 iLevel® Power Chairs feature a revolutionary new power chair design for a better experience.

iLevel improves daily functionality and quality of life by allowing operation of the power chair with the seat fully elevated while at walking speed (at 4.5 mph).

iLevel's patented Extra Stability Technology® enhances safety for transfers, reach, and numerous other activities of daily living.
Learn more about the iLevel on our website, or check out the video below to see how it helps Dusty-Mae interact with her horse friends!
Rethink the Home Reno - Elevate Instead!
See how the iLevel can save you thousands of dollars that would have been necessary for a home renovation - just by having the option of a power seat height adjustment.
Watch an example of a typical day for Stephanie Woodward, a Quantum® consumer advocate and "My Edge" team member. Stephanie, who is Director of Advocacy for the Center for Disability Rights, uses her Q6 Edge® 2.0 Power Chair with iLevel® power-adjustable seat height to help her perform her activities of daily living.
Do you have questions about power seat elevation, or would you like to demo the iLevel in your own home? Contact us now - we'd love to help.