Safe Scooters for This Season
It's travel season! Whether you're planning a cruise, road trip or just a quick day trip away from home, these travel mobility products can make your travels easier and more comfortable. The best part? You can find these products on our website. Read on to learn more.
Folding Travel Scooters
Transit Scooter
Get on the go with this reliable scooter from Heartway Canada. Some of the features include:
Folds electrically with remote control - no effort required!
250 lb weight capacity
Lightest foldable scooter
Learn more about it here.
Go-Go Elite Traveller Scooter
With its lightweight and stable design, this mobility scooter is the perfect solution to help you get where you need to go and maneuver in tighter rooms and smaller spaces.
Available in 3-wheel & 4-wheel models
Disassembles into 5 super lightweight pieces for transport & storage
Rent from $400/month
To learn more about this product, click one of the buttons below.
3-Wheel Scooter 4-Wheel Scooter
Travel Products for the Bathroom
Mangar Inflatable Bath Lift
Comfort, practicality and ease of use are three things the Mangar Inflatable Bath Lift is known for. These bath lifts allow you to lie right down at the bottom of the bathtub! Some other benefits include:
Perfect for travel - lightweight & portable
Lifts up to 300 lbs
Can be placed & removed in seconds
Want more information? Find it in our catalog.
Folding Deluxe Commode
This folding deluxe commode with an elongated seat includes the bucket, lid and splash guard. It allows you or your loved ones to use the bathroom safely and features a two-year warranty on the frame as well. Benefits include:
Fast and easy to assemble and disassemble
Snap on seat and lid
350 lbs. weight capacity
Take a look at this commode here.
Travel Products for the Car
PRS Therapeutic Seat Cushion
This seat cushion is ideal for wheelchairs and recliners and helps prevent and heal pressure sores. It uses a fluid 3D flotation technology to provide the lowest peak pressure while sitting. This can be used with wheelchairs, recliners, lift chairs and many other chairs!
Provides relief from sitting pain - excellent for road trips or any time you're sitting for long periods of time
Use on your office chair, in the car, on a transport wheelchair or lift chair
Prevents formation of new pressure sores
Interested in learning more? Visit our online product catalog to read more about these types of products.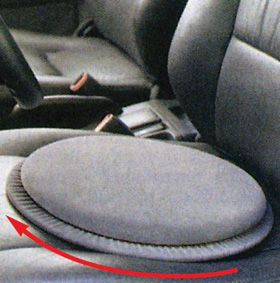 Padded Swivel Cushion
This padded transfer cushion takes the pressure and strains off of your back and hips when you are turning. It supports up to 300 lbs. Some other benefits include:
Cushion swivels smoothly so you can transfer out of your vehicle more easily
1" padded foam for comfort
Combine with the Handy Bar for the ultimate in easier car transfers
Check this product out in our catalog to learn more or to submit a product request.
Handy Bar
The Handy Bar helps to prevent falls and makes standing or sitting easy! This is the perfect travel companion and features other functions, and doubles as a seatbelt cutter and window breaker in emergencies.
Makes it much easier to get in and out of the car
Fits any door latch and supports up to 350 lbs.
Combine with the Padded Swivel Cushion to make car transfers even easier
If you're looking for the handy bar, or other helpful travel products, find them in our catalog today.
Is there a travel mobility product you're looking for? Contact us to let us know - chances are we can get it for you!