Life Happens at Eye Level
When you combine the extra-smooth ride and advanced stability of the Edge 3 Power Chair with the 12" power seat elevation of the iLevel (at a walking speed of 4.5 mph), you get a stylish, unique and incredibly functional power chair that will noticeably enhance your daily living.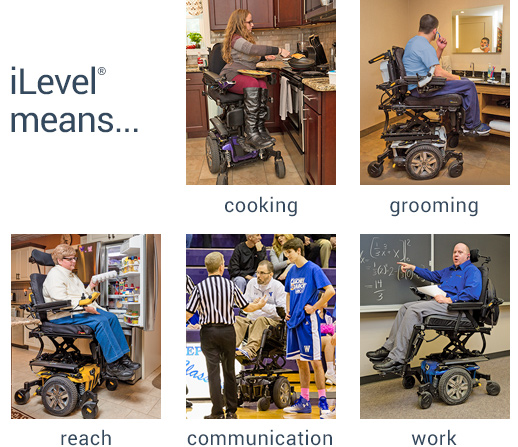 Edge 3

Upgraded SRS (Smooth Ride Suspension) - makes curb climbing so much easier!

Includes fender lights & USB charger.

Drive wheel colour accents are standard.

iLevel

Available on the Edge 3; can be retrofitted.

12" of power-adjustable seat height while at walking speed.

Extra Stability Technology™ enhances safety for transfers, reach & many other activities of daily living.
A Day In the Life with iLevel
Watch an example of a typical day for Stephanie Woodward, a Quantum® consumer advocate and "My Edge" team member. Stephanie, who is Director of Advocacy for the Center for Disability Rights, uses her Q6 Edge® 2.0 Power Chair with iLevel® power-adjustable seat height to help her perform her activities of daily living.
See how the iLevel can save thousands of dollars that would have been necessary for a home renovation - just by having the option of a 12" power seat height adjustment.
Would you like to demo this product? SelfCare has a brand new Edge 3, fully loaded with iLevel, power tilt, power recline & power elevating centre footboard. This chair is available for demo in your home or at any of our four community locations. Just contact us and we'd be happy to arrange a demo for you.