Recently I had to purchase my very first piece of ADL equipment - a Handi-Reacher. I was having abdominal surgery and knew that I wouldn't be able to bend over to pick things up, at least for a few weeks.
I've worked at SelfCare for over six years now, and thought I had a pretty good idea of what I'd be using my reacher for after my surgery (picking up things I dropped)... but there were many times that I had to get creative and use my reacher for things that I never would have thought of until I had no other option.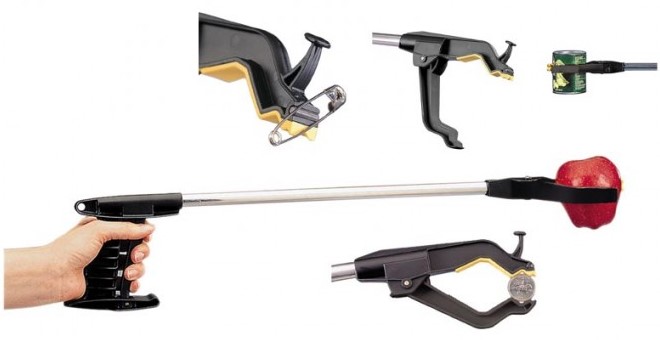 PLEASE NOTE - I took full responsibility for any potentially dangerous things I did with my reacher, and was well aware that if I wasn't careful I could have made the situation worse, or at least broken something. This article is purely to demonstrate that creativity in the face of a challenge will get you everywhere when it comes to ADL products!
The reasons I chose the Handi-Reacher were:
It's very sturdy - not loose and rickety like a lot of reachers on the market.
I LOVE the non-slip yellow rubber that lines one of the jaws - it really makes a big difference when picking up something slippery or heavier.
The magnet on the tip (the most under-utilized feature in my opinion) is extremely handy.
The hook (on the same jaw as the magnet) is also really helpful for picking up items like clothing.
Here are some unexpected things that I was able to do with my reacher. Of course, I used it for all the standard things like picking up my phone if I dropped it or shoes/clothing from the floor.
Unload the bottom rack of the dishwasher (remember what I said about taking full responsibility for potential breakage?). Maybe not the safest thing in the world, but I wouldn't have attempted it with any other reacher because the rubber grip held my dishes securely. It worked perfectly!
I also used the hook to pull out the bottom rack of the dishwasher and push it back in again.
Pick up broken glass (again, be safe please). I dropped a full bottle of essential oil on my bathroom floor and of course, it shattered into many pieces. Since I live alone I had no alternative but to deal with it myself. So I picked up as many pieces of broken glass as I could and put them in the trash.
Use paper towels to wipe up a spill. This was the second part of my broken essential oil adventure - after I had picked up the broken glass, I got a handful of paper towels, tossed them on the ground, gripped them with my reacher and mopped up the spill without having to bend over. Then I just grabbed the paper towels (with the reacher, of course) and put them into the trash. It worked like a charm!
Pick up other broken stuff. I also dropped a ceramic bowl which of course broke as well; it was easy to pick up the pieces with my reacher!
Pick up really tiny things like painkiller tablets (yes, I drop a lot of things) - the jaws work really well for very small things too.
The laundry. I have a stacked front load washer/dryer combo - the kind with the small front opening on the washer. The reacher made it so easy to load the clothes into the small opening of the washer, and then to grab them once washed & move them to the dryer.
Open low drawers. I was able to easily open all my low drawers, no matter what kind of handle they had.
I actually ended up with two reachers while I was recovering at home - one was the Handi-Reacher I've been talking about, and one was a more basic one borrowed from a co-worker. And guess what?!